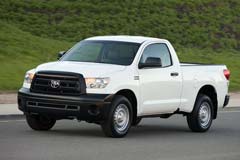 Toyota's venture into the full-size truck market was initiated with the launch of the Tundra in 1999. Immensely popular, the award-winning Tundra offers two generations of style and design that boast the signature durability and longevity of Toyota.
The first generation Tundra, first released in 1999, was a bit smaller than some other trucks offered by competing auto manufacturers in the United States. It was offered in both V-6 and V-8 engine options. However, production of the V-8 models was short-lived, making these models harder to find.
The second generation Tundra was introduced in 2007 and brought more choices in body styles, engine performance and capacity. Larger than its first generation predecessor, the second generation Tundra offers a variety of style options including cab design, bed size, and three different engines with greater towing capacity. As with many Toyota vehicles, regular maintenance often yields engine longevity of 200,000 miles or more. Thus, an older model that might be considered high-mileage in other brands may still have several years of life remaining in it.
| | |
| --- | --- |
| Starting MSRP: $25,455 | Estimated MPG: 16 City / 20 Hwy |
| Available Trims: Regular Cab, Double Cab, CrewMax | Base Engine: 4.0L V-6 |
[phpbay keywords="Toyota Tundra" num="10″ siteid="1″ sortorder="EndTimeSoonest" templatename="default" paging="false" category="6001″]