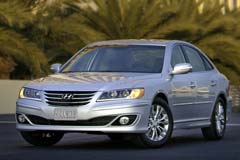 The used Hyundai Azera can be purchased as a first generation style or the current model. It was first introduced in 2006, with the first generation being produced up until 2011. It was available in GLS, SE and Limited trim levels with a 5-speed automatic transmission. The Azera GLS had a 3.3L V6 engine with a power output of 234 hp and 226 lb-ft of torque, while the SE and Limited had a 3.8L V6 engine that produced 236 hp and 257 lb-ft. The GLS and SE trims were well-equipped and offered leather upholstery and a premium audio system. The Azera Limited came with the standard features plus extras.
The first generation Azera underwent various changes. In 2008, the GSL replaced the SE, with more standard features added as well as extras such as a navigation system, satellite radio and surround sound. In 2009, revisions were made to the car's steering and suspension, while additional features included a new grill, iPod/USB portal and different interior lighting. In 2011, the power output of the GLS was increased to 260hp and 233 lb-ft of torque. For the Limited, it was increased to 283 hp and 262 lb-ft of toque. Other improvements were upgrades to a 6-speed transmission and better fuel economy.
Subsequently, in 2012, the Azera was redesigned for improved style, power and interior quality, with no major changes since then. It has a 3.3L V6 engine that generates 293 hp, with 6-speed automatic and manual shift control. The current Hyundai Azera's standard features are extensive, including 18 inch wheels, dual-zone climate control, LED accent lighting, heated front and back seats, rearview camera and a 7-speaker audio system. This large size sedan has been commended for its swift acceleration, smooth shifts and comfortable ride.
| | |
| --- | --- |
| Starting MSRP: $32,250 | Estimated MPG: 20 City / 28 Hwy |
| Available Trims: Base | Base Engine: 3.3L V6 |