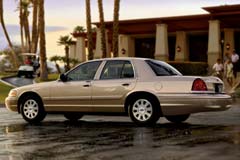 Prior to a small resurgence around the year 2000, the Crown Victoria was the only large, 4 door sedan with a hefty power train that had lasted through the years. When looking for a used Ford Crown Victoria your search may begin with the 1992 model year. That is when the automaker retired its LTD brand in favor of the "Crown Vic."
The used Ford Crown Victoria's early versions from 1992 to 1995 came equipped with a 4.6L, V8 rated at 210 horsepower. Subsequently, and just prior to it being removed from public sale in 2007, another 4.6L V8 was offered with 224HP and 272 pound feet of torque. Even though it weighed nearly 2 tons, this vehicle was rather quick from the start. This may be one reason that this vehicle is still produced today, but mainly for the law enforcement market segment. The only transmission offering throughout its run was that of a 4 speed automatic.
Styling changes were incorporated in 1995 and again in 1998. In 2003 a new chassis was installed beneath the same body shell. There were only two trim levels to choose from, the base and the LX. Although many minor revisions occurred from 1992 thru 2007 the basic Crown Victoria remained very much the same automobile.
If you are looking for a solid, roomy vehicle, capable of comfortably transporting 5 or 6 adults, a used Ford Crown Victoria may be just the car for you.
| | |
| --- | --- |
| Average Resale Price: $11,483 | Estimated MPG: 18 City / 25 Hwy |
| Available Trims: base, LX, Touring, LX Sport | Base Engine: 4.6L V8 |