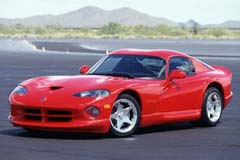 Dodge viper debuted in the year 1992. The GTS coupe was more powerful. It had a 400 horsepower truck-based engine and a lighter weight aluminum that substituted for the cast iron. In 1996, a 450 horsepower engine was introduced.
In 1999, power mirrors, bigger wheels and optional Connolly leather were added. On the other hand, the Viper ACR trim level became available in the same year. However, antilock brakes were not available until the 2001 model year.
The 2nd generation Dodge Viper was produced between 2003 and 2010. At its debut, it had an 8.3L V10 engine that generated 500 horsepower and 525 lb ft torque. Only the Roadster model was available for this year. A 6-speed manual transmission paired with a standard limited slip differential sent power to the rear wheels. The SRT-10 debuted in 2006 and it featured a 10hp increase.
The 2008 used Dodge Viper is much more powerful as compared to its predecessors. It has an 8.4L V10 that produces 600 horse power and 560 pound feet torque. The hardcore ACR edition also debuted in the same year. This model has wide forged alloy wheels with 19" rear wheels and 18" front wheels.
| | |
| --- | --- |
| Average Resale Price: $40,000 | Estimated MPG: 13 City / 22 Hwy |
| Available Trims: RT/10, GTS, ZB, SRT, VX | Base Engine: 8.4L V10 |