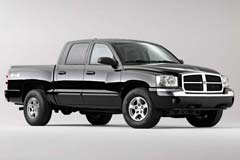 The first-generation Dodge Dakota was produced between 1987 and 1996. The second-generation model, from 1997 to 2004, featured almost all the strengths of the most recently released trucks. The 1997 to 1999 models had a 5.2L V8 engine. The 2000 Quad Cab model had a 4.7L V8 engine which was replaced by a 3.7L V6.
The third generation Dodge Dakota has several trim levels including TRX, SXT, ST, Sport and Laramie. However, in the final year it was officially renamed the "Ram Dakota." There were also other special models such as the Bighorn and LoneStar.
Initially, the third generation Dodge Dakota featured a 210 hp V6 engine or an optional 4.7L V8 that produced 230hp. Both engines had a standard 6-speed manual transmission. The V6 could be paired with a 6-speed automatic transmission and the V8 engine with a 5-speed automatic transmission. In 2006, a high output 260 hp V8 joined the show. However, this was replaced by a 4.7L V8 that produced 302 hp in the year 2008. The manual transmission system was discontinued in 2010 whereas the TRX4 off-road model was discontinued in 2011.
The latest generation of the Dodge Dakota is available with a two or four wheel drive. Some high-end models have a full-time 4-wheel drive system. It features upgraded styling, a redesigned instrument panel, hard drive based navigation system, additional storage compartments and a MyGIG multimedia system. Side curtain airbags and anti-lock brakes were standard on all models. The used dodge Dakota gives buyers the choice of a crew cab or an extended cab.
| | |
| --- | --- |
| Average Resale Price: $11,000 | Estimated MPG: 15 City / 20 Hwy |
| Available Trims: ST, STX, Sport, Laramie, TRX | Base Engine: 3.7L V6 |
[phpbay keywords="Dodge Dakota" num="10″ siteid="1″ sortorder="EndTimeSoonest" templatename="default" paging="false" category="6001″]