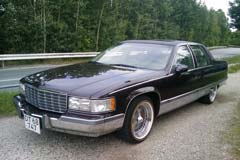 The Fleetwood design was first released in 1920 and was founded by Henry Fleetwood. This vehicle received high reputation for its unique luxury car construction. In 1925, Fishers Body Corporation purchased Fleetwood Body Company and the design was officially reserved for Cadillac. By 1938 cars with a Fleetwood body had to be obtained by purchasing a Cadillac series 75 or 90. This marked the beginning of a legendary series of luxury cars.
Between 1985 and 1992 the first generation of Fleetwood styled 4 -door sedans and 2-door coupes were produced. The 1991 vehicle heightened the engine capacity to 4.9 L V8 engine with the ability to create 200 horsepower. The final model (1993) featured adjustable seats. An optional add-on was fender skirts that covered the rear wheels giving it a formal lengthier look.
The second generation (1993 – 1996) is known as being the longest car production ever sold in the U.S. 1996 marked the end of this run. The last model was an enormous car that could carry six passengers. Moreover, it was speedy, came with a new audio system and a restyled storage armrest with dual cup holders. The used Cadillac Fleetwood is a stunning car for anyone who wants to own a piece of history.
| | |
| --- | --- |
| Average Resale Price: $4,000 | Estimated MPG: 14 City / 21 Hwy |
| Available Trims: Brougham, Limousine, Sixty Special, 75, Limited | Base Engine: 4.9L V8 |