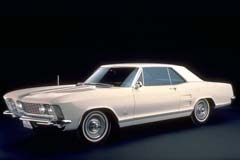 The Buick Riviera line was discontinued in 1999 despite being one of their most successful models with more than 1.1 million units sold. Today, used Buick Riviera models are considered classic luxury cars.
The first generation up through 1979 was front wheel drive. It was one of the first and few lines that did not share a body shell with other models. The models used a standard Buick V8 engine. The engine had a total output of 325 HP. In the 1970's the engine was downsized due to emissions issues. After 1986, the only engine available was a V6 with an output of 142 HP.
From the exterior, the Riviera maintained its appearance with each new generation. The car would feature a wide and overextended hood with a small grill between the headlights and a v-shaped tail.
The car could only accommodate 4 passengers but the line has always been a two-door model. Amongst the available options, customers could opt for real walnut elements for interior trims, electric doors, white sidewall tires, air conditioning and a few other upgrades.
| | |
| --- | --- |
| Average Resale Price: $2,650 | Estimated MPG: 18 City / 26 Hwy |
| Available Trims: Base, Coupe, T-Type, Supercharged | Base Engine: 5.7L V8 |