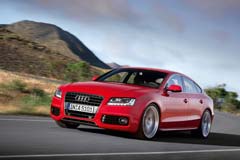 The history of the Audi A5 series started in 2007 when the first model exited the assembly line. Till today, the original model manages to stay competitive when compared with newer models. Used Audi A5 cars are still popular due to their compact designs and powerful engines.
Categorized as a coupe, the car comes with a couple of engine options. The original model was available with either a 3.2 or a 3.0 liter V6 engine. Special models for the US market were released with a 4.2 liter engine and 6 speed manual and automatic transmission.
The exterior of the car is similar to the one of the A4 series but a bit more compact. The cabriolet version was released in 2009 at the same time as the Sportback model.
Over the years, the design of the car changed very little with only a few fine touches to the front grill and air vents to improve aerodynamics. Also, some models feature an automatic boot lid spoiler that is deployed when the car goes over 75 MPH.
From the consumer's perspective, a used Audi A5 model is popular amongst individuals that want a luxurious, yet compact car.
| | |
| --- | --- |
| Starting MSRP: $39,000 | Estimated MPG: 24 City / 31 Hwy |
| Available Trims: Premium, Premium Plus, Prestige | Base Engine: 1.8L 4 Cylinder |